Greek-born designer Mary Katrantzou who graduated from Central Saint Martins with a BA and MA has grabbed the attention of many fashion critics within the industry. Not long after her graduation in 2009, she had already caught the eye of tastemakers from Paris wanting to stock her pieces in their boutiques, and not long after that, she had been offered to produce a new collection for one of high streets major retailers: Topshop.
Original, chic and mesmerising is how I would describe Katrantzou's first collection which was launched during Autumn/Winter 2009. Her concept for the collection was to use perfume bottle inspired prints. As simple as this may sound, it is exceptionally clear that Mary has put a lot of time and thought into her work to bring her vision to life. This can be seen through the illusion of a cinched in waist that she creates in her pieces as seen below.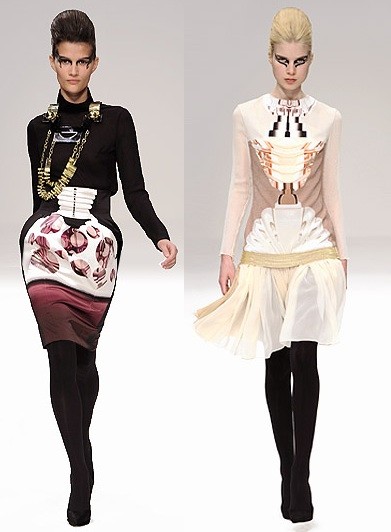 I find her latest collection for Spring/Summer 2011 even more fascinating than her previous collections as it consists of surrealist prints with heavily structured silhouettes which are based around household rooms. If you study her designs closely, you are able to make out the different rooms within a house ranging from the average living room to bedrooms and even a balconies (not to mention a lampshade for a skirt)!
I admire Mary for her pure talent and the sheer complexity of her designs through optical illusions.
Mary Katrantzou's work cannot just be classified as fashion, it is a modern form of art.